Lao PDR has long been a proponent of more effective partnerships for development. Since 2006, the Government of Lao PDR, together with development partners, has engaged in building effective partnerships based on the Vientiane Declaration on Aid Effectiveness, and its mutual accountability framework - the Vientiane Declaration Country Action Plan (VDCAP) which lays out clear actions, indicators, targets and responsible parties for development.
In 2015, the government and development partners renewed this commitment through the Vientiane Declaration on Partnership for Effective Development Co-operation, and established the Vientiane Declaration Action Plan (VDCAP) 2021-2025 which consists of eight principles with 14 action areas guiding a broad development coordination framework with various development stakeholders for achieving national development goals.
Action Dialogue of Global Partnership for Effective Development Co-operation
Most recently, in 2021, Lao PDR hosted its 12th High-Level Round Table Meeting, which is an inclusive high-level forum that discussed the implementation of Lao's National Socio-Economic Development Plan (NSEDP) with diverse stakeholders, being informed by the mid-term review of the VDCAP (2021-2025).
The mid-term review, based on various monitoring and survey reports, including the Global Partnership monitoring exercise in 2018/19, covered successes and challenges during the last five years (2015-2020) to identify key actions for further enhancingeffective development co-operation in the country in light of the implementation of the 9th NSEDP 2021-2025. 
His Excellency Dr. Manothong Vongxay, Deputy Minister of Planning and Investment presented progress of key actions in each principle of the VDCAP.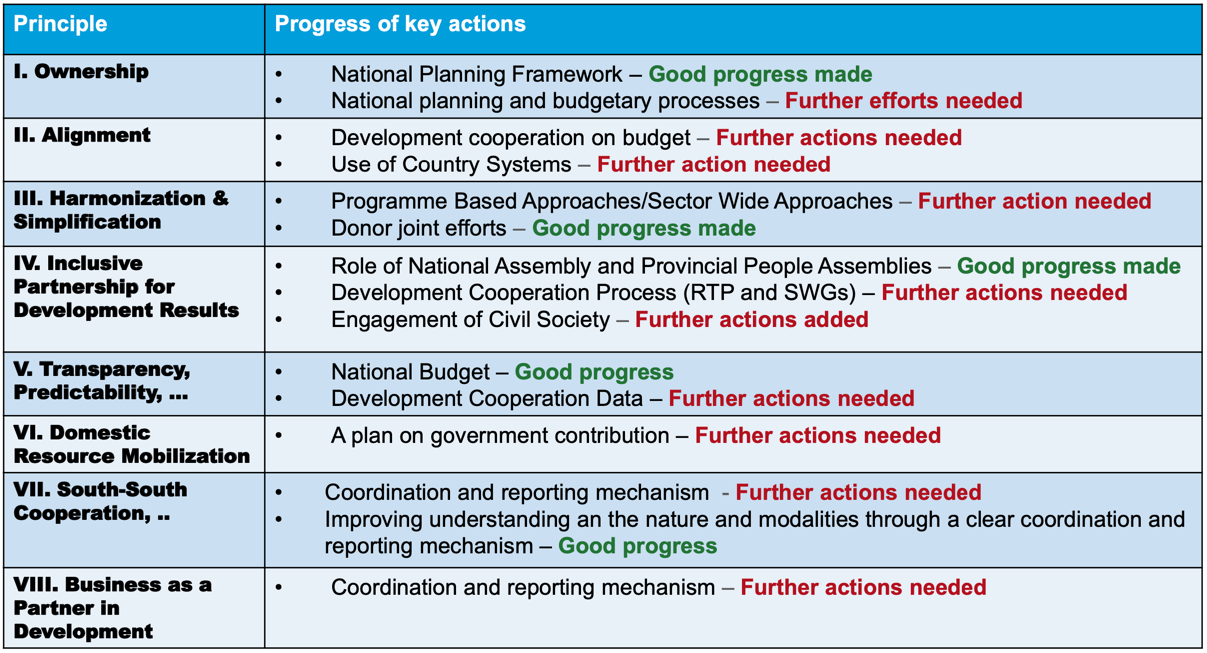 During the meeting, the country also hosted an Action Dialogue , a new initiative launched by the Global Partnership for Effective Development Co-operation to make development co-operation more effective at country level.
Partners shared their views on effective development co-operation including Thailand who reaffirmed their support to the government of Lao PDR in line with the 9th NSEDP and the VDCAP. Additionally, UNDP's Resident Representative, Ms. Ricarda Rieger highlighted three core elements for making development co-operation more effective and efficient: 
we must be more adaptable
we must ensure accountability
we must ensure people participation such as Civil Society Organisations and the private sector.
The government of Lao PDR and partners have showed their commitment to work in a principled way for more effective development co-operation by stressing:
The VDCAP as a spirit of mutual understanding, transparency and accountability of all relevant development stakeholders
The 8 VD principles as being of great importance with need to ensure full participation of all partners (government, development partners, private sector, civil society, and other stakeholders). Partners stressed that regular meetings that were more systematic & rigorous were needed to ensure proper monitoring and reporting.
Maximizing development finance with VDCAP implementation helping accelerate efforts to maximize different sources of development finance to support the 8th NSEDP (2016-2020) & 9th NSEDP (2021-2025)
Further efforts to materialize the targets of the 14 Actions –to ensure pace of progress is consistent across all actions with some actions falling behind and needing particular attention.
Participation at the upcoming 2022 Effective Development Co-operation Summit. A potential follow up session is recommended that will identify key outcomes and lessons to be presented at the milestone Summit.
In the near future, the government is committed to implement several actions to fulfil and meet each principle of the VDCAP. Focusing on results, transparency and accountability, the Ministry of Planning and Investment has already taken steps to collect data against the VDCAP indicators, integrating the 14 key VDCAP indicators into the Lao PDR's Official Development Assistance Management Information System (ODA-MIS). However, due to internal and global challenges in the previous years, statistical updates on the progress of the 14 action areas of the VDCAP won't be available in the year 2022; further action needed. 
Lao PDR's consistent leadership in working together with partners in a principled way to use development co-operation in the most effective manner possible is a successful case story for many in the region. 
Photo credits: Asia & The Pacific | Lao PDR | © CADRi Partnership